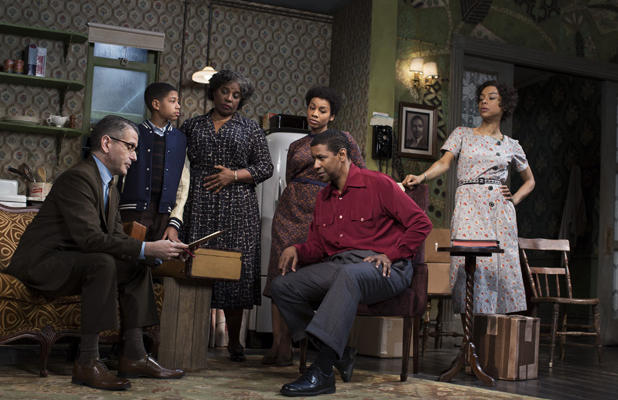 A Raisin in the Sun review: Denzel Washington Looks Back and Forward in Anger
In his review for The Wrap, Robert Hofler reflects on both the 1969 original Broadway production of A Raisin in the Sun and the 1961 film version, and praises director Kenny Leon for supporting a bravura performance from Denzel Washington (Walter Lee), which "shifts the balance of Lorraine Hansberry's classic play. . ." That shift is through the careful balancing of the relationships between Washington, Sophie Okonedo (Ruth), Anika Noni Rose (Beneatha) and even  Bryce Clyde Jenkins (Travis) and the central character of Mama, played by LaTanya Richardson Jackson. Hofler notes that 
Washington, at age 59, is older than the typical Walter, but the actor looks and plays the role much younger than his years. He also plays it angry and dissolute and uncompromising, but with just enough of the big kid in him after all these years for Walter still to possess his dreams of independence and wealth. . .Washington doesn't let us forget the last line of Langston Hughes's poem "A Dream Deferred." This man still has plenty of potential to "explode," and probably will.
Read the full review here.
The Broadway revival of Lorraine Hansberry's A Raisin in the Sun opened on April 3 at the Barrymore Theater. Directed by Kenny Leon, the show will play a limited engagement through June 15. Joining two-time Oscar and Tony winner Denzel Washington in the cast are LaTanya Richardson Jackson (Mama), Oscar nominee Sophie Okonedo (Ruth), Tony winner Anika Noni Rose (Beneatha), Tony nominee Stephen McKinley Henderson (Bobo), David Cromer (Karl Linder), Jason Dirden (George Murchison), Sean Patrick Thomas (Asagai), and Bryce Clyde Jenkins (Travis).
Originally produced in 1959, Lorraine Hansberry's A Raisin in the Sun was the first play written by an African American woman to be produced on Broadway, where it won the New York Drama Critics' Circle Award for Best Play.