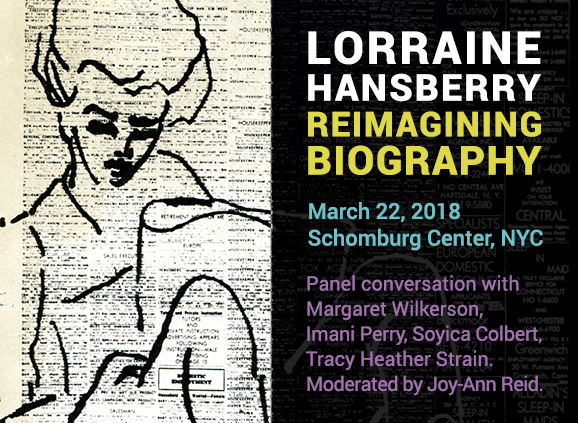 Reimagining Biography: Meet panelist Tracey Heather Strain
Filmmaker Tracy Heather Strain speaks with Stephanie Long of CassiusLife about the making of the documentary, Sighted Eyes Feeling Heart.
"I first learned about Lorraine Hansberry as a 17-year-old senior in high school who was living in the suburbs. My grandmother came out to the suburbs, picked me and my sister up, and took us into town to see a play, To Be Young, Gifted and Black. It was a play that was put together after Lorraine Hansberry's death by her ex-husband Robert Nemiroff, and it [opened at] Cherry Lane Theater in 1969, but by the time I saw it, it was 1978.

People were putting on [versions of the play] around the country. Just hearing her words, hearing this young voice talking about race, class and gender, it really just hit me. It just resonated. I had never encountered a young, Black woman who was thinking about these kinds of things, who was successful and was smart.

To borrow her phrase, she just entered my consciousness and stayed there. It wasn't until the 80s after I graduated to go to college that I decided I wanted to be a filmmaker. Really it was just Lorraine herself that I found interesting, and she died young. It seemed there was a story there to tell. Little did I know how complex and layered her story really was. I had no clue. It was kind of a compulsion."
Lorraine Hansberry: Reimagining Biography
Thursday, March 22, 2018
Panel Discussion 6:30-8:00pm
Reception 8:00-9:00pm
Schomburg Center for Research in Black Culture
515 Malcolm X Blvd (135th St and Malcolm X Blvd)
New York, NY, 10037
This is a free event, but as space is limited please RSVP here.
Lorraine Hansberry: Reimagining Biography panelists include Tracy Heather Strain (director of Lorraine Hansberry: Sighted Eyes | Feeling Heart, PBS national broadcast January 2018); Margaret Wilkerson (author of forthcoming Lorraine Hansberry: Am I a Revolutionary? and Professor Emerita of African Diaspora Studies and Theater, Dance, and Performance Studies at the University of California, Berkeley); Imani Perry (author of the forthcoming Looking for Lorraine: The Radiant and Radical Life of Lorraine Hansberry and a professor of African American Studies at Princeton University); and Soyica Colbert (author of the forthcoming Lorraine Hansberry: Artist/Activist (Yale University Press, 2019) and professor of African American Studies and Theater & Performance Studies at Georgetown University). The panel will be introduced by Joi Gresham, the executive director of the Lorraine Hansberry Literary Trust, and moderated by Joy-Ann Reid (national correspondent, MSNBC).
Date:
Wednesday, March 14, 2018