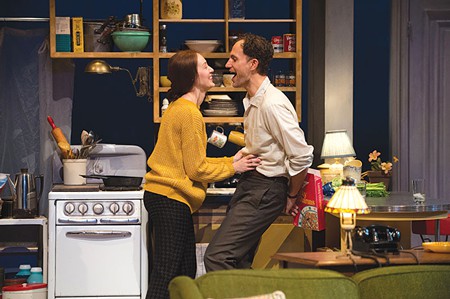 The Sign In Sidney Brustein's Window opens at the Oregon Shakespeare Festival
In "A Night at the Shakespeare Fest," David Templeton reviews the four plays that open the year-long Oregon Shakespeare Festival and concludes that "the best of the bunch, so far, is Hansberry's final play, The Sign in Sidney Brustein's Window. Whatever else is said about it, it's certain to become one of the most hotly debated plays of the spring season."
Directed by Julie Carillo, this is the 50th anniversary of a seldom produced play; in his review, Templeton offers some context:
Lorraine Hansberry is the playwright best known for writing A Raisin in the Sun, which made her the first female African-American writer to open a show on Broadway.

That was 1959.

By the time The Sign in Sidney Brustein's Window opened in 1964, Hansberry was in the final months of a losing battle with cancer. An act of love to the very end, Sidney Brustein was polarizing, to say the least. Critically savaged by some, though earning fierce devotion from others, it was attacked by critics for packing in too many different contemporary social issues. Watching the play today, it's obvious that it's the work of an artist desperate to say as much as possible in the short time she had left.
The Sign in Sidney Brustein's Window opened at the Oregon Shakespeare Festival on February 15 and will continue playing through July 3, 2014. OSF is a not-for-profit professional theatre founded in 1935; their season runs Tuesday–Sunday February through October in three theatres: two indoor stages and a flagship outdoor Allen Elizabethan Theatre. When you visit you can see one or two plays or up to nine plays in one week. For information about OSF, visit www.osfashland.org.
Date:
Friday, February 14, 2014