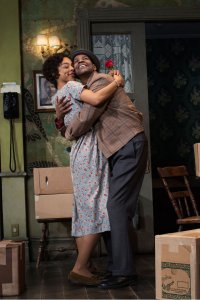 The Hollywood Reporter reviews A Raisin in the Sun
The bottom line in David Rooney's review of A Raisin in the Sun for The Hollywood Reporter: The charged emotions and earthy humor of Lorraine Hansberry's 1959 play remain undimmed. Rooney goes on to say: 
Denzel Washington is the star attraction, but it's the harmonious balance of an impeccably matched ensemble that makes Kenny Leon's lovingly staged revival of A Raisin in the Sunso alive with authentic feeling. The warmth as well as the frictions and frustrations of a real family ripple through this lived-in production, with an accomplished cast that nestles deep into every moment of humor, hope and sadness. Even in its more dated passages, Lorraine Hansberry's groundbreaking 1959 play remains a work of stirring compassion and humanity.
Continuing on to discuss the differences between this cast and the 2004 Broadway revival starring Phylicia Rashad (Mama), Audra McDonald (Ruth), Sanaa Lathan (Beneatha), and Sean Coombs as Walter Lee (Rashad and McDonald won Tonys for their work) and the question of whether Washington, at 59, was "too old" to play the role of Walter Lee Younger, whose character is 35 as written in the play by Hansberry, Rooney focuses on the dramtic integrity of the play and of the cast. Rooney concludes with notes on the outstanding performances of Sophie Okonedao (Ruth), LaTanya Richardson Jackson (Mama), and Anika Noni Rose (Beneatha), calling the "resilience and enduring affections" of these three strong women the heart of A Raisin in the Sun.
The full review can be found here.
The Broadway revival of Lorraine Hansberry's A Raisin in the Sun opened on April 3 at the Barrymore Theater. Directed by Kenny Leon, the show will play a limited engagement through June 15. Joining two-time Oscar and Tony winner Denzel Washington in the cast are LaTanya Richardson Jackson (Mama), Oscar nominee Sophie Okonedo (Ruth), Tony winner Anika Noni Rose (Beneatha), Tony nominee Stephen McKinley Henderson (Bobo), David Cromer (Karl Linder), Jason Dirden (George Murchison), Sean Patrick Thomas (Asagai), and Bryce Clyde Jenkins (Travis).
Originally produced in 1959, Lorraine Hansberry's A Raisin in the Sun was the first play written by an African American woman to be produced on Broadway, where it won the New York Drama Critics' Circle Award for Best Play.