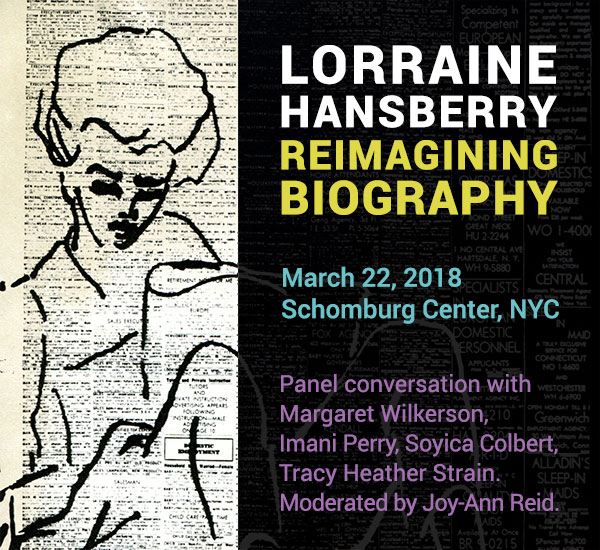 Reimagining Biography: Meet panelist Margaret Wilkerson
In 2016, London's National Theatre revived Lorraine Hansberry's unfinished, ambitious drama about African politics, Les Blancs (The Whites), at the Olivier Theatre and directed by the South African Yael Farber (watch a short video trailer here).
Hansberry's biographer, Margaret Wilkerson, says Les Blancs has plenty of relevance today as it looks at racial tensions in Africa just as the underpinnings of colonialism are starting to shift.
In California, Margaret Wilkerson is currently completing the full-length biography which Hansberry enthusiasts have waited for.

Prof Wilkerson says writing the book has convinced her that the playwright is as relevant as ever.

'I'm old enough to have lived through the 60s, and more and more I feel America is back in those years," she said.

"When you woke up then you didn't know what would have happened in terms of protestors and so many issues around race.

"That's a lot of what Lorraine was writing about, even though Les Blancs is set in Africa. Now with the Black Lives Matter movement I sometimes feel we're back asking the same questions and looking at the same social problems."

Prof Wilkerson continued: "Lorraine died before she could contribute to black consciousness in the way she surely would have. I've been studying her for years but it's only finally writing the new book I've realized how extraordinary she was at the beginning of the 1960s.

"It's not just about the lives of African Americans: she was strongly concerned with changing the role of women as well.

"She was a cultural and political activist of a type which perhaps became more familiar later. The medium she used to communicate in her short life was basically writing. It would have been fascinating to see what might have followed if she hadn't died in 1965."
Les Blancs explores the return from London of Tshembe Matoseh to his home village in an unnamed African country; the character is in debate with a visiting white American journalist. Les Blancs appeared briefly on Broadway in 1970 with James Earl Jones as Tshembe.
Lorraine Hansberry: Reimagining Biography
Thursday, March 22, 2018
Panel Discussion 6:30-8:00pm
Reception 8:00-9:00pm
Schomburg Center for Research in Black Culture
515 Malcolm X Blvd (135th St and Malcolm X Blvd)
New York, NY, 10037
This is a free event, but as space is limited please RSVP here.
Lorraine Hansberry: Reimagining Biography panelists include Margaret Wilkerson (author of forthcoming Lorraine Hansberry: Am I a Revolutionary? and Professor Emerita of African Diaspora Studies and Theater, Dance, and Performance Studies at the University of California, Berkeley); Imani Perry (author of the forthcoming Looking for Lorraine: The Radiant and Radical Life of Lorraine Hansberry and a professor of African American Studies at Princeton University); Soyica Colbert (author of the forthcoming Lorraine Hansberry: Artist/Activist (Yale University Press, 2019) and professor of African American Studies and Theater & Performance Studies at Georgetown University); and Tracy Heather Strain, (director of Lorraine Hansberry: Sighted Eyes|Feeling Heart, PBS national broadcast January 2018.) The panel will be introduced by Joi Gresham, the executive director of the Lorraine Hansberry Literary Trust and moderated by Joy-Ann Reid (national correspondent, MSNBC).