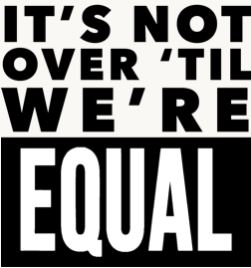 Samira Wiley: 'It Was a Gift' to Play Lorraine Hansberry in HBO Max Docuseries
HBO Max docuseries EQUAL will be released to the public on Thursday, October 22.
Over the course of the four-part series, viewers will meet a wide range of LGBTQ+ visionaries portrayed by a diverse cast, many of whom identify as members of the LGBTQ+ community. Part Three, Black is Beautiful, Gay is Good! focuses on the contributions of Black folks to the movement and features Lorraine Hansberry using both archival footage abd enactments by Samira Wiley. Narrated by Billy Porter, the episode also discusses Bayard Rustin (Keiynan Lonsdale), one of the key organizers of the 1963 March on Washington for Jobs and Freedom; José Sarria (Jai Rodriguez), the first openly gay candidate to run for San Francisco county supervisor in 1963 and drag performer of comic operas at the Black Cat in Los Angeles; and the 1967 raid on The Black Cat that inspired a gay rights demonstration against police brutality—and foreshadowed the Stonewall Uprising and Gay Pride Marches across the United States.
Meredith Jacobs interviews actor Samira Wiley for TVInsider on what it felt like to portray playwright Lorraine Hansberry.
Jacobs: Something that made this docuseries seem more powerful was the mix of the footage of the people and the portrayals. Did it feel that way to you? 

Samira Wiley: Absolutely. Me being able to watch that, it's so well done, and it gives you such a full picture of who she is. Being able to actually see clips of her sitting down and talking with a circle of a bunch of white men and hold her own, that there's nothing in that clip that feels like Lorraine is inferior, that she feels nervous, none of that. She is able to be completely herself in a room where no one looks like her and possibly no one thinks like her. It's just so amazing to be able to see that, and for me, in bringing her to life, I really needed that. That was essential for me to really do my best work, to have those things side by side.
You can read the full interview here.